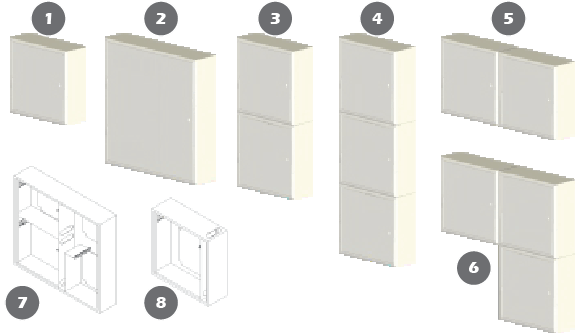 1- Modular ATE | 2- monocyte ATE | 3- Modular ATEs paired vertically | 4- Modular ATEs Differentiated Technologies Vertical | 5- Paired modular ATEs | 6- Arrangement of modular ATEs FO and PC + CC | 7- Interior of modular ATE 600×600 | 8- Interior of the ATE single body 900×1000
• Interconnection with public telecommunications networks or networks from ITUR.
• Concentration of the building's telecommunications networks.
• Management of different copper, coaxial and fiber optic cable networks.
• Integration of home automation systems, video entry and security systems and private TV networks.
• ATE is part of the collective network of pipes, has conditional access and is where the General Distributors (RG) are located
of the three technologies envisaged, namely: copper pair (RG-PC); coaxial cable (RG-CC) and optical fiber (RGFO).
• Made of zinc color plate and double epoxy paint in white color RAL 9010.
• JSL ATEs are supplied with bottom plates made of self-extinguishing rigid plastic material, with minimum thickness suitable for fixing any equipment.
• ATEs are equipped with interior space to receive the compartments of fiber optic operators, with the exterior doors receiving a RITA-type lock (not supplied).
• The ATE contains the general ITED grounding connectors (BGT) and 4 shucko sockets.
• ATEs can be equipped with ventilation windows by installation of the fan Ref. 293MF from JSL.
| Ref. | Design | IK | IP | Dims.(mm) | M* | I* | C* | E* |
| --- | --- | --- | --- | --- | --- | --- | --- | --- |
| 307-ATE-UNI | Armário Monocorpo - Instalação Embebida | 9 | 54 | 900 x 1000 x 200 | M3 | I1 | C1 | E3 |
| 309-ATE-MULTI | Multi-Armário - Instalação Embebida | 9 | 54 | 600 x 600 x 200 | M3 | I1 | C1 | E3 |
| 308-ATE-UNI | Armário Monocorpo - Instalação Saliente | 9 | 54 | 900 x 1000 x 200 | M3 | I1 | C1 | E3 |
| 310-ATE-MULTI | Multi-Armário - Instalação Saliente | 9 | 54 | 600 x 600 x 200 | M3 | I1 | C1 | E3 |
| | | | | | | | | |
| * Classificação MICE | | | | | | | | |