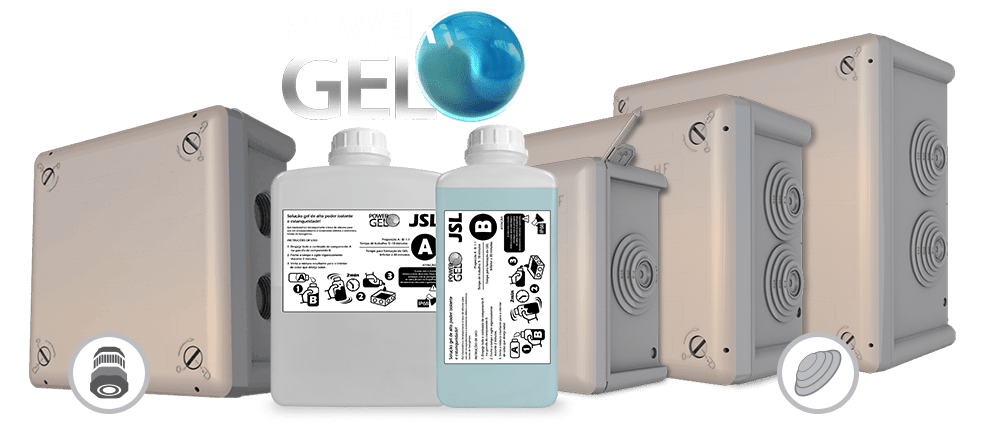 JSL Power Gel is the perfect solution for extra protection of waterproof junction boxes in Electrical and Telecommunications Installations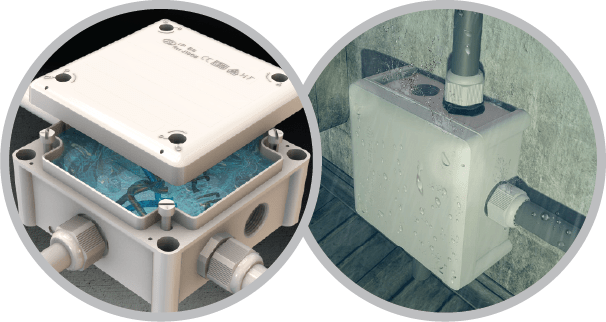 Designed for use in electrical and telecommunications installations, applications in extreme humidity environments or buried installations, wells, service and washing pumping stations, swimming pools, among others.
Provided with two containers of gel, ratio 1:1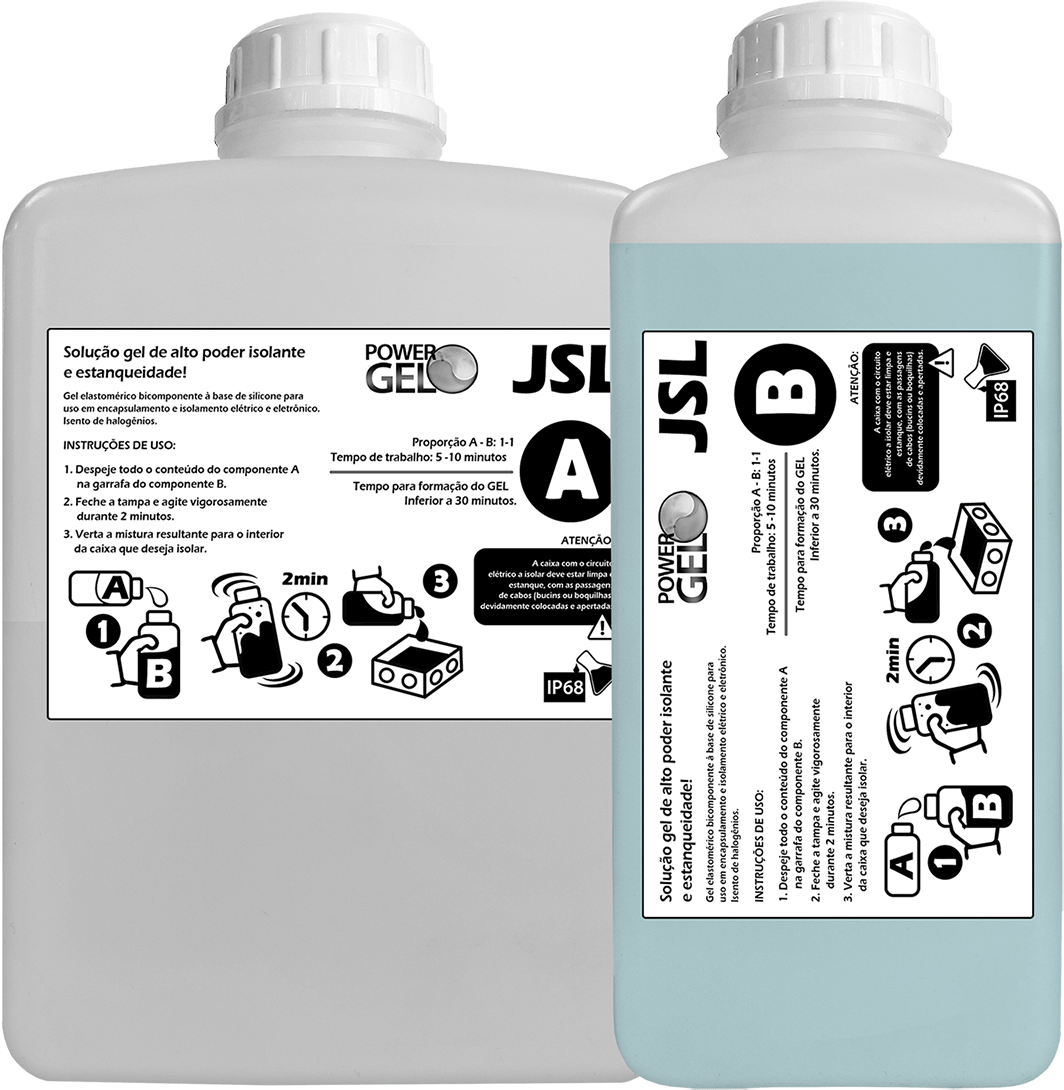 Simple and quick mixing. No halogens, no silicone, no isocyanates or other contaminants.
CHARACTERISTICS

Insulation resistance Ω1014 | Sealing (Installations in humid environments) | THERMAL PERFORMANCE (Normal 90ºc, Overload 140ºc)
High degree of protection even with water between the CABLE TUBORS
With Metric Gland or IP 66 Grommets according to your needs
Mixture based on self-extinguishing material, environmentally safe flame retardant and without harmful substances
KIT J100S GKIT
Kit consists of:
J100S Enclosure + 500ml Gel + Pair of Gloves

KIT J80-BGAK
Kit consists of:
J80B Enclosure + 340ml Gel + Pair of Gloves

KIT J100-BGAK
Kit consists of:
J100B Enclosure + 500ml Gel + Pair of Gloves
KIT J160-BGAK
Kit consists of:
J160B Enclosure + 900ml Gel + Pair of Gloves

KIT J200-BGAK
Kit consists of:
J200B Enclosure + 2x1200ml Gel + Pair of Gloves

| Ref. | Dim. (mm) | IP | IK | Aceita Bucins | Inclui Boquilas | Volume Caixa (ml) | Saco de Gel (ml) |
| --- | --- | --- | --- | --- | --- | --- | --- |
| J100S GKIT | 100 x 100 x 55 | 68 | 8 | 6 x M20 + 1x M25 | - | 540 | 500 |
| J80-BGAK | 85 x 85 x 55 | 68 | 8 | - | 7 x M25 | 370 | 340 |
| J100-BGAK | 100 x 100 x 55 | 68 | 8 | - | 7 x M25 | 540 | 500 |
| J160-BGAK | 155 x 100 x 70 | 68 | 8 | - | 10 x M25 | 956 | 900 |
| J200-BGAK | 200 x 155 x 85 | 68 | 8 | - | 10 x M25 | 2.460 | 2x1200 |