Front Cable Trays are they are groupable / stackable allowing a wide use with respect to the cable packing number in a single fixing location.
EASILY STACKABLE FRONT CABLES TRAY
Its high cable retention capacity makes it suitable for fixing and retaining NYM cables.
Thermo-thermal supports for multiple cables:
710-15 Multiple cable support 15 x NYM 3 x 1.5mm²
710-30 Multiple cable support 30 x NYM 3 x 1.5 mm²
FIXING
WITH 2 TYPES OF ORIENTATION
DESIGNED FOR APPLICATIONS IN CONCRETE AND METAL CABLE PATHS
JSL Cable Carriers, among other cable supports, and all other fastening materials are produced entirely from halogen-free raw material, and this ranks JSL as one of the few European companies with an extensive range of products in this area.
Prepared to support 10 kg and 15 kg, respectively, if properly spaced 60 cm between supports.
They can be installed in metal cable trays using an M5 screw, and installed extremely resistant to concrete using a galvanized steel screw and bushing.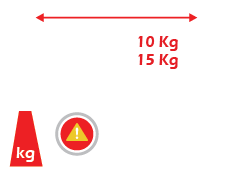 As a good member of any family, we are never just presenting you the range of clamps clusters for VD PG and Hydraulic tubes and cables integrated in a complete halogen free JSL solution.