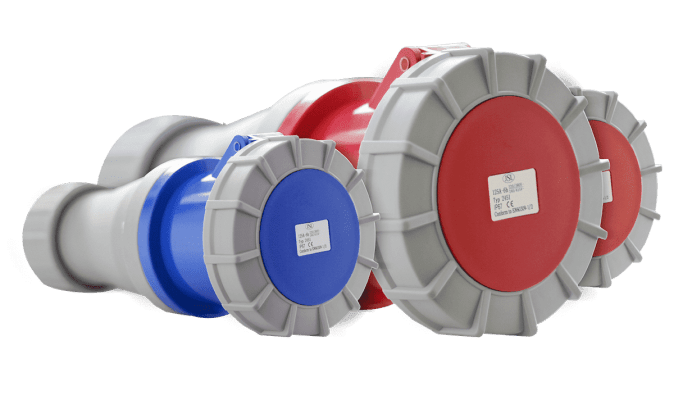 They can be applied on the wall in a prominent way or in cases where it is necessary to supply electrical energy to equipment, mobile plugs/sockets will be used.
JSL IP67 Industrial Plugs and Sockets suitable for installations with a high degree of tightness, resistance to impact and temperature.
Best solution for shopping centers, hospitals, offices and any type of industry.

Plugs - IP67
| Ref. | Polos | Amp. | Hz | Volt. | IP | IK | Secção de cabo | ØCabo(mm2) |
| --- | --- | --- | --- | --- | --- | --- | --- | --- |
| 679316/4 | 2P+T(E) | 16 | 50/60 | 250 | 67 | 09 | 1,5-2.5 | 8-12 |
| 679416/4 | 3P+T(E) | 16 | 50/60 | 415 | 67 | 09 | 1,5-2.5 | 8-12 |
| 679516/4 | 3P+N+T(E) | 16 | 50/60 | 240/415 | 67 | 09 | 1,5-2.5 | 8-12 |
| 679332/4 | 2P+T(E) | 32 | 50/60 | 250 | 67 | 09 | 2,5-6 | 12-17 |
| 679432/4 | 3P+T(E) | 32 | 50/60 | 415 | 67 | 09 | 2,5-6 | 12-17 |
| 679532/4 | 3P+N+T(E) | 32 | 50/60 | 240/415 | 67 | 09 | 2,5-6 | 12-17 |
| 679363/8 | 2P+T(E) | 63 | 50/60 | 250 | 67 | 09 | 6-16 | 16-30 |
| 679463/8 | 3P+T(E) | 63 | 50/60 | 380/415 | 67 | 09 | 6-16 | 16-30 |
| 679563/8 | 3P+N+T(E) | 63 | 50/60 | 240/415 | 67 | 09 | 6-16 | 16-30 |
IP67 Connectors (couplers)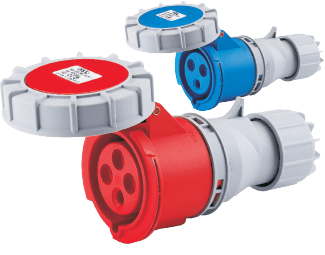 | Ref. | Polos | Amp. | Hz | Volt. | IP | IK | Secção de cabo | ØCabo(mm2) |
| --- | --- | --- | --- | --- | --- | --- | --- | --- |
| 679316/3 | 2P+T(E) | 16 | 50/60 | 250 | 67 | 09 | 1,5-2.5 | 8-12 |
| 679416/3 | 3P+T(E) | 16 | 50/60 | 415 | 67 | 09 | 1,5-2.5 | 8-12 |
| 679516/3 | 3P+N+T(E) | 16 | 50/60 | 240/415 | 67 | 09 | 1,5-2.5 | 8-12 |
| 679332/3 | 2P+T(E) | 32 | 50/60 | 250 | 67 | 09 | 2,5-6 | 12-17 |
| 679432/3 | 3P+T(E) | 32 | 50/60 | 415 | 67 | 09 | 2,5-6 | 12-17 |
| 679532/3 | 3P+N+T(E) | 32 | 50/60 | 240/415 | 67 | 09 | 2,5-6 | 12-17 |
| 679363/7 | 2P+T(E) | 63 | 50/60 | 250 | 67 | 09 | 6-16 | 18-30 |
| 679463/7 | 3P+T(E) | 63 | 50/60 | 415 | 67 | 09 | 6-16 | 18-30 |
| 679563/7 | 3P+N+T(E) | 63 | 50/60 | 240/415 | 67 | 09 | 6-16 | 18-30 |
IP67 Wall receptacles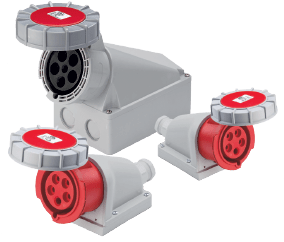 | Ref. | Polos | Amp. | Hz | Volt. | IP | IK | Secção de cabo | ØCabo(mm2) |
| --- | --- | --- | --- | --- | --- | --- | --- | --- |
| 679316/2 | 2P+T(E) | 16 | 50/60 | 250 | 67 | 09 | 1,5-4 | 10-14 |
| 679416/2 | 3P+T(E) | 16 | 50/60 | 415 | 67 | 09 | 1,5-4 | 10-14 |
| 679516/2 | 3P+N+T(E) | 16 | 50/60 | 240/415 | 67 | 09 | 1,5-4 | 10-14 |
| 679332/2 | 2P+T(E) | 32 | 50/60 | 250 | 67 | 09 | 2,5-10 | 12-17 |
| 679432/2 | 3P+T(E) | 32 | 50/60 | 415 | 67 | 09 | 2,5-10 | 12-17 |
| 679532/2 | 3P+N+T(E) | 32 | 50/60 | 240/415 | 67 | 09 | 2,5-10 | 12-17 |
| 679363/6 | 2P+T(E) | 63 | 50/60 | 250 | 67 | 09 | 6-25 | 18-25 |
| 679463/6 | 3P+T(E) | 63 | 50/60 | 415 | 67 | 09 | 6-25 | 18-25 |
| 679563/6 | 3P+N+T(E) | 63 | 50/60 | 240/415 | 67 | 09 | 6-25 | 18-25 |
IP67 Panel mounted receptacles (angled)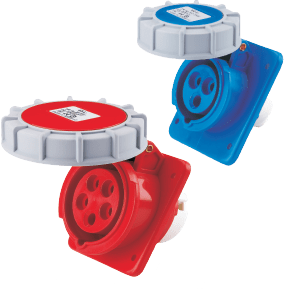 | Ref. | Dim. (mm) | Prova fio incand. | Nº Entradas | Auto extinguivel | Temp |
| --- | --- | --- | --- | --- | --- |
| 403 | 44x38 | 850ºC | 2 | Sim | -5 + 60 |
| 404 | 65x50 | 850ºC | 4 | Sim | -5 + 60 |
| 405 | 110x110x40 | 850ºC | 10 | Sim | -5 + 60 |
| 406 | 65x60 | 850ºC | 4 | Sim | -5 + 60 |
| 407 | 65x40 | 850ºC | 4 | Sim | -5 + 60 |
| 408 | 65x142x50 | 850ºC | 6 | Sim | -5 + 60 |
| 424 | 68x45 | 850ºC | 4 | Sim | -5 + 60 |
| 426 | 68x60 | 850ºC | 4 | Sim | -5 + 60 |
| 428 | 68x142x45 | 850ºC | 6 | Sim | -5 + 60 |
| 429 | 68x213x45 | 850ºC | 10 | Sim | -5 + 60 |
| 409-U | - | 850ºC | 0 | Sim | -5 + 60 |