Specially designed to solve problems associated with the connection and electrical supply of devices or peripherals, where the classic floor extension being unsightly is not convenient. It is designed with a "flat" look with straight and modern lines for a perfect and very elegant finish.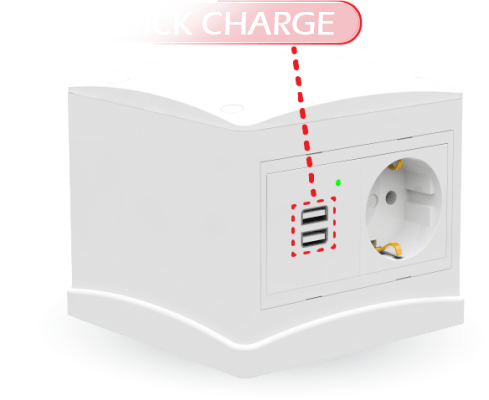 PowerTower Technical Specifications – Fast Usb Charger
Charger type: electrical socket and USB connection
Outputs: 3 schucko sockets and 2 fast-charging USB ports of 5V, 2,1A
Compatible voltages: 110-240V
1.5m power / extension cable
Fast Usb Charger Designed for maximum charging compatibility with smart devices, both old and new, such as smartphones, tablets, rechargeable computer equipment, audio devices, digital cameras, iPhones, iPads, Android phones, iPods, powerbanks, laptops, handheld consoles and many others. Allow yourself the best option for power availability on mobile devices, in your home or business space.
Super light and ultra durable, the PowerTower With fast USB socket is made of ultra-resistant white ABS and is an excellent energy connectivity solution for both home and professional markets – a JSL product for the whole family!